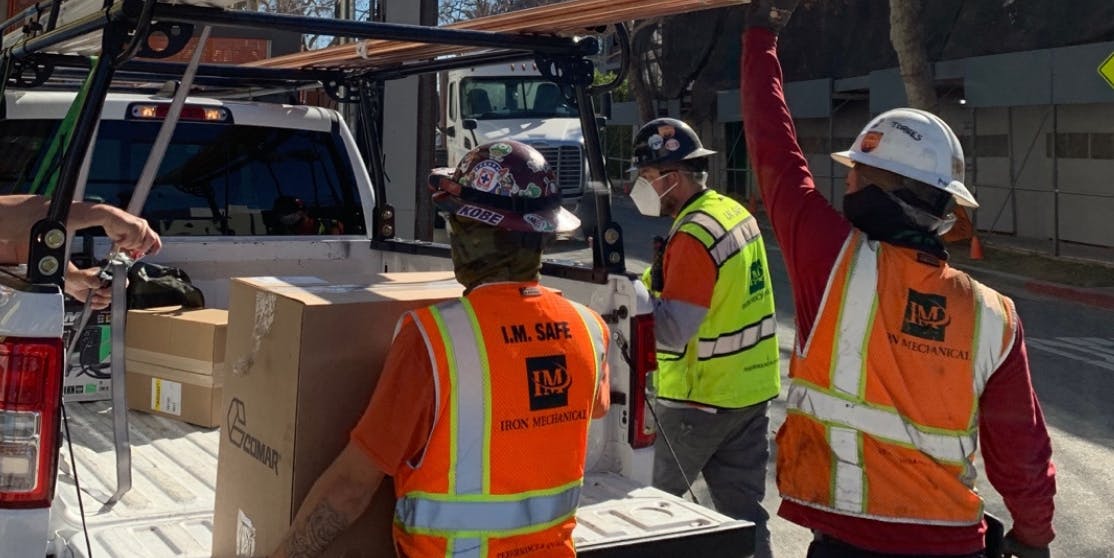 General contractors typically have multiple jobs operating simultaneously. Keeping each jobsite operating smoothly requires coordination and foresight. However, no matter how carefully a project is scheduled and planned out, occasions will arise when supplies and tools are not on-site as needed. Even something as simple as running out of nails can lead to a hiccup in the construction schedule. Yet, there's no need to have a significant time loss.
Contractors and builders can keep production moving as scheduled by turning to a courier for a same-day on-site delivery service. Since a courier can deliver tools and other needed supplies to the jobsite, the contractor can get the job done as anticipated. Maintaining the schedule also ties into maintaining the bottom line.
Same-Day Replacement for Broken or Damaged Tools
Workforce in place, supplies in place. Ready to go! All good, but then you discover a tool is broken or damaged. Work comes to a screeching halt. Is there anything more frustrating? Tick, tick, tick, time is a-wasting, and aggravation is brewing. Every project manager has experienced this scenario to some degree or another. The question is how to handle this situation and minimize damage.
Having a courier who can offer same-day delivery service directly to the jobsite can save the day. By minimizing the time lost, the team does not fall hopelessly behind on the schedule. When the same-day replacement arrives, work can progress with tools in place. Knowing the replacement service is an option can be critical resource for contractors.
Jobsite Delivery for Rental Tools and Equipment
The need for on-site tool delivery can also be part of the contractor's operating plan (rather than a reaction to an unexpected situation). Perhaps, you are renting the tool and are paying for usage by the day. In this case, promptly having the tool is even more important.
The team members responsible for operating the tool are at the jobsite and are ready to do their work. They may be specialists brought in to operate the tool and are paid by the day or hour. This makes prompt same-day delivery of the tool even more important since a delay wastes money and time.
On-Site Restock for Nails, Staples, Batteries, PPE, and More 
Have you ever been on a jobsite when the plans say one thing and reality is quite different? Of course, you have, since any contractor who has been in the field has experienced this type of situation. And when this happens, it's time to adjust. The adjustment will most likely impact the type of or the number of materials needed.
No matter how minor the materials – nails, staples, batteries, plywood, kitchen fixtures, electrical outlet, plumbing supplies, etc. – are, they need to be on-site when needed to keep the construction process moving as efficiently as possible. The same-day delivery service to the jobsite that delivers tools is also available for supplies. So, there's no reason to be without the tools and supplies you need at the jobsite. Keep moving forward on your construction projects.
Need Building Supplies, Parts, or Machinery? We Deliver That Too.
At Curri, we offer same-day delivery service for all things construction. This includes building supplies, parts, and machinery. All tools, machinery, and supplies can be delivered, regardless of the size or quantity needed.
With every type of construction-related material available for delivery to a jobsite as needed, you won't lose precious time when something is missing that is required to move forward on the job.
Keep Your Team on the Construction Site and Off the Road
You may be thinking, 'Why bother with a local courier when I can send someone from my team to grab something that we need on the jobsite?' Well, keeping the team in place is valuable. Taking a person off the team – even briefly – may impact work quality. People are trained and skilled at specific tasks. Having someone fill in may impact the quality of the work. The person pulled off the job to run the errand may struggle to get back in the swing of things upon return, and team cohesiveness and camaraderie may be harmed.
You also have to select a person who has a vehicle that can fit the construction supplies, tools, or machinery. Depending on the size, you may have a few options of who can go. If the person who runs the errand gets into an accident, there could be insurance issues. If the person is injured, it could become a worker's compensation case.
Having local couriers who know the area, with a complete fleet of every size vehicle, makes the delivery to the jobsite incredibly simple. It allows your team to stay on the construction site as planned, which leads to greater productivity.
Check Out What Curri Can Do
Want to know how Curri's same-day jobsite delivery of construction tools and supplies can help you keep your project moving forward as scheduled? We're ready to make it happen.
Getting started with Curri is completely free, no obligations. So make Curri part of your team today.