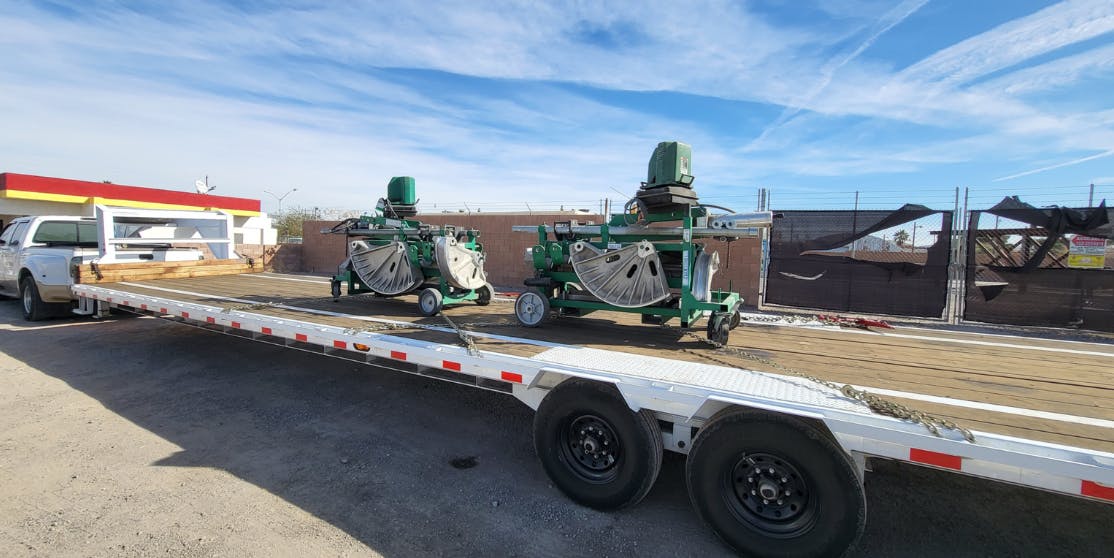 With most heavy equipment or machinery, deliveries must be scheduled out weeks if not months in advance. In addition, getting quotes for these deliveries takes days or weeks. Curri's nationwide fleet of vehicles is equipped to deliver heavy freight when you need it fast. With Curri, quotes are delivered by the next business day and our delivery operations team is always readily available to assist in anything they can. As 2022 ramps up staffing gaps continue to cause delays in the delivery of heavy equipment.
A Nationwide Team of Couriers Equipped for Heavy Freight
Curri's nationwide team of local couriers is making a big difference for businesses across America. Whether you need to transport heavy equipment with an oversized flatbed, or you need to deliver a single replacement part, our extensive fleet has the right vehicle for quick and cost-effective transport.
"Curri is an excellent fit for AED members as they, like many companies, are struggling with workforce shortages. Having a partner like Curri that can fill a critical role for last-mile delivery at a more economical price than having their own full time employees on staff to deliver products is key to their success. Outsourcing these services provide a value add to their organization allowing them to focus their staff on other essential services they provide to their customers."
-Jon Cruthers, Vice President at Associated Equipment Distributors
Curri's Heavy Equipment Delivery Team in Action
Our Delivery Ops and Customer Success teams are with you every step of the delivery process. You're always just a phone call or email away from having our experienced team assist you. Our Delivery Ops team works hard to deliver quotes back to you as soon as possible, which means you don't have to wait on long drawn-out quote processes. Work with real people, dedicated to helping you and your customer get heavy equipment delivered.
Contractors: Get Machinery Transported Direct to the Job Site
With Curri, contractors save time and money by getting machinery delivered directly to the job site. Our service allows contractors to remain at the job site, where their highly valued skillset is required instead of driving and shopping for supplies for the day or week. The Curri app makes it quick and easy for contractors to connect with a driver to get construction equipment and supplies delivered with the click of a button. You no longer have to wait around or spend hours on hold to find out when machinery will be delivered.
Contractors: Get On-Demand Pick-up and Return Service
What do you do when you find yourself needing heavy equipment or machinery on the job site? You rent it! Curri can deliver the rented equipment and keep your job site productive. We can also return the heavy equipment or machinery for you whenever you are done using it. This allows you to focus on your job site and not worry about how the machinery will get returned or late fees from the rental companies.
Rental Companies: On-Demand Delivery for Your Customers
When handling a large volume of orders, the chances that you'll have delays in deliveries increases. Curri allows rental companies to focus on generating more revenue and fulfilling your customer's delivery expectations. Our fleet operations team treats every delivery with the utmost care and attention, so each delivery is a seamless experience from beginning to end. In addition, all of our deliveries are insured up to $25,000 with additional coverage easily available.
Manufacturers & Dealerships: Last-Mile Delivery for Sold Product
Last-mile delivery has become a thorn in the side for manufacturers. Customers have created the standard that they want your products as soon as possible. Late deliveries or lack of transparency can damage customer relationships that have taken years to grow. You'll never have to worry about your brand's reputation, because Curri makes it easy to keep your promises and always deliver your product on time. With Curri, manufacturers can sell more by always being able to deliver.
Mechanics: Transport Services for Equipment Needing Repair
Curri also offers transport services for mechanics to get equipment delivered that needs to be repaired, serviced, or even remanufactured. We have a network of drivers and vehicles that can handle delivering any equipment needing a tune-up. Curri can pick up the equipment and deliver it directly to you so you can repair or service the equipment. We handle all aspects of the delivery so you can focus on what it is your best at.
Curri Capabilities Will Make a Difference for Your Business
Curri provides end-to-end transparency for all of your delivery needs. Our live tracking ensures you'll always know where your heavy equipment or machinery is at all times. In addition, we provide notifications with updates regarding your delivery to you and your customer via SMS text or email. These features keep you and your customer updated in real-time. With every delivery you're provided with proof of pick up and delivery photos. These capabilities relieve you of stress and provide you with an over-the-top delivery experience to exceed your customer's expectations.
Get started with Curri today! Sign up or book a delivery.