Last-Mile Delivery Services for Building Materials and Supplies
Last mile materials delivery and logistics for the construction industry.
One of the trickiest delivery logistics challenges is finding an efficient and affordable way to make your last mile deliveries. Typically, these deliveries are time-sensitive and can have varied load sizes from delivery to delivery. This makes them hard to plan for and logistically challenging.
Curri is the solution. With Curri, you can trust that your final mile deliveries will be carried out efficiently, securely, and with the utmost professionalism. With Curri, you can handle same-day last mile deliveries for your building materials and supplies, whenever you need us.
Ready to learn more about how Curri works? Read on to learn more, or contact the Curri team with any questions!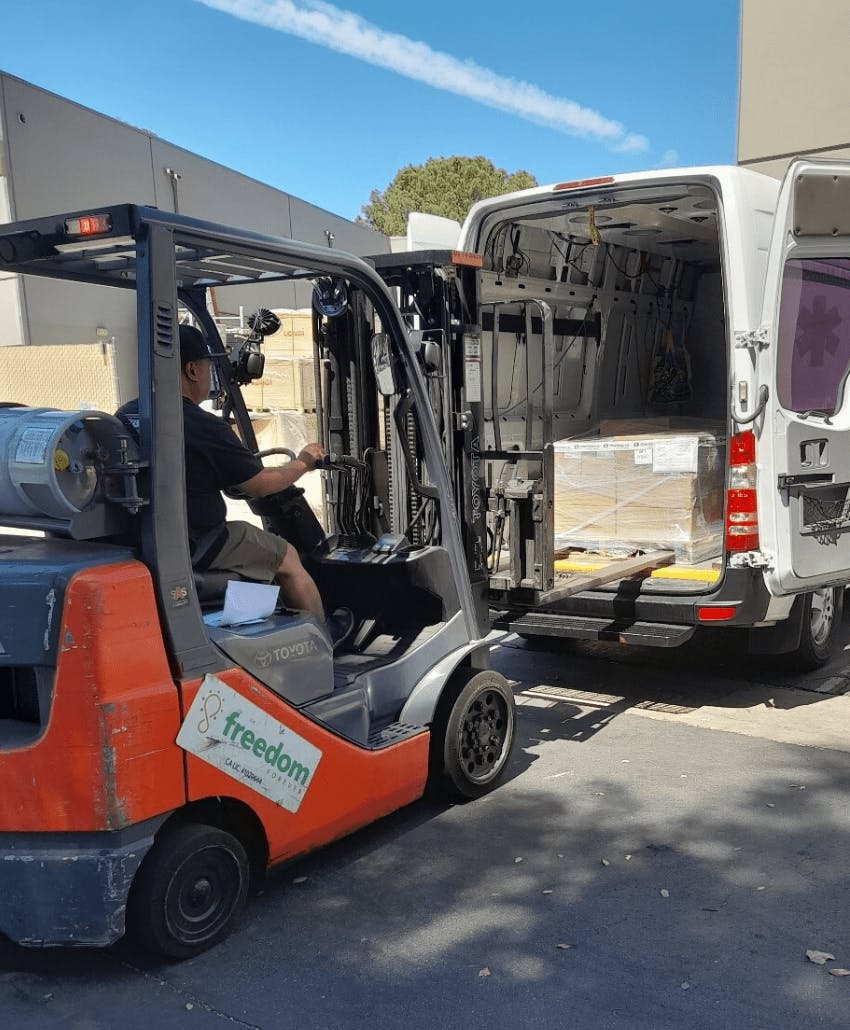 Fleet Expansion for Retailers, Distributors and Manufacturers
The last mile problem is prevalent for distributors and manufacturers in the construction industry, and it's a problem that Curri set out to solve. We've done this by putting together a network of drivers that spans the nation. With Curri at your side, you can expand your own delivery fleet using our platform. With Curri, you no longer have to set up your own delivery operations for last mile deliveries. Instead, you can trust that the Curri fleet has your back.
When you use Curri, you can just open the app and request a last mile delivery when you need it. You'll have the entire delivery fleet in your area at your fingertips. You don't have to worry about uncertainty and late deliveries anymore. Curri can take care of all your urgent and last-minute deliveries when it's most convenient for you. We do this with experienced drivers and a complete fleet of vehicles.
Experienced Local Drivers with an Array of Vehicle Options
When you trust Curri to handle your final mile deliveries, you can rest easy knowing that you're making the right choice. This is because Curri's network of drivers have the experience needed to get your deliveries done right, every time. Drivers will also be local to your area, meaning they'll be readily available and they'll know your area as well as you do. They're insured, background checked, and monitored to ensure the high expectations of our B2B customers are met.
In addition to having the best drivers available to you, you'll also have a fleet that includes every delivery vehicle you could imagine. Curri's extensive fleet network has vehicles of every size and function. You can choose pickups, sedans, flatbeds, cargo vans, straight trucks, and anything else you could need. Best of all, being able to pick the right vehicle for the job means you're never overpaying for a vehicle that's bigger than you need. You'll get customized, flexible delivery every time.
Nationwide Couriers Solving the Last Mile Problem
Our nationwide network of couriers can improve your last mile logistics in every way. Since we offer such a large fleet, you can get local delivery wherever you are. When you have to schedule that last mile delivery, you don't have to stress and scramble to make it happen. Just utilize Curri, sit back, and watch as your delivery is brought right to the job site at the time it's supposed to be there.
Impress your customers. You'll be able to tell them that they can always rely on you to get them their materials and supplies on an as-needed basis. They'll see that they can trust you to get them their deliveries reliably, time and time again. So, not only are you solving your last mile problems, you're making your customers happier in the process and ensuring loyalty.
As an all-in-one last mile delivery company, Curri truly works for any size construction business. Small businesses, medium-sized businesses, and enterprise-level businesses alike can all benefit from the cost-savings and efficiency that Curri provides. For example, you can save money on fleet maintenance with Curri fully integrated into your delivery operations.
The Final Mile Is No Match for Curri
With Curri, final mile deliveries can be a breeze. When you need to make sure your supplies and materials get right to the destination, you can call on Curri to get it done. Best of all, Curri is a one-stop shop. All your delivery needs are covered in one straightforward platform. Nothing is complicated, everything is designed to be intuitive and easy for you to use. The typical stress of last mile and final mile deliveries will quickly become a thing of the past for your business.
A Powerful Software Platform: One App for Every Delivery
The Curri platform provides you with every feature you could possibly need for your deliveries, all in one simple-to-use application. With Curri, you simply open our website or app, request your delivery time, choose your vehicle from our fleet, and watch as your delivery is taken care of by our expert team.
Curri handles every delivery you require. Hot shots, first-mile, last-mile, LTL, FTL, scheduled routes, round robins, and more. Curri is ready to be your delivery partner, where and when you need us.
Ready to Get Started? Set Up Your Account Today
Are you ready to see how your business can be improved with Curri? We want to show you what we can do. Set up your account and start requesting your deliveries today. You'll be glad you did.
If you have any questions, we're just a click away. Ready to get started? We're ready to get the job done.