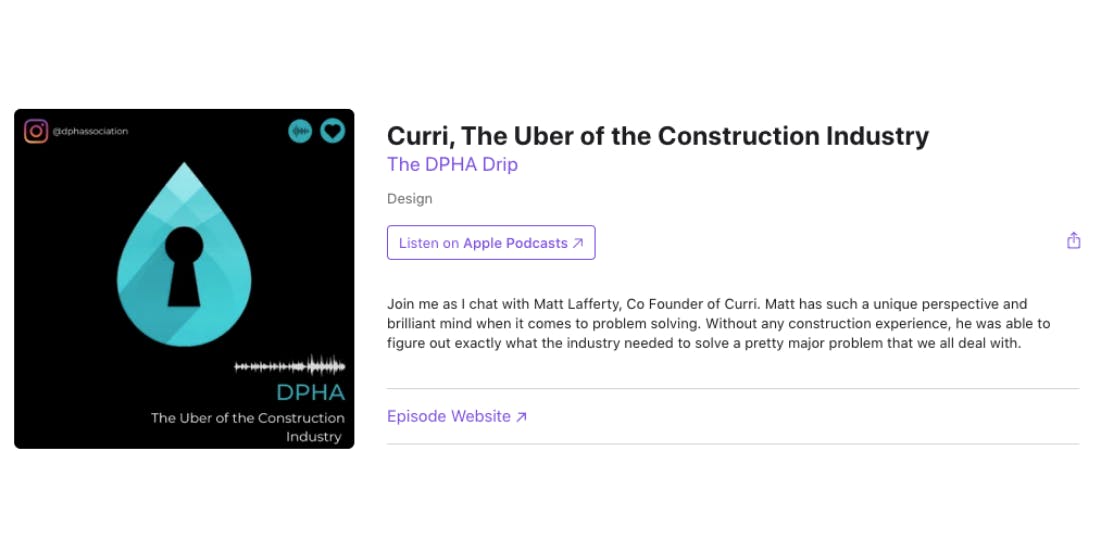 If you're in the plumbing industry, you definitely need to be tuning in to The DPHA Drip podcast. The DPHA Drip podcast is brought to you by the Decorative Plumbing and Hardware Association. Through the DPHA, members can connect with other dealers, reps, manufacturers and others in the plumbing, hardware, and home fixture industry. This podcast seeks to further industry education for professionals and help them find the best resources.
In this episode of The DPHA Drip podcast, you'll hear Curri CEO & Co-Founder, Matt Lafferty, talking about how we came up with Curri to provide a major resource for businesses in the plumbing and hardware industry. Listen to the episode below, and read on to learn why Curri is quickly becoming a necessity for distributors.
Why Curri's Delivery Service Is Perfect for Contractors and Suppliers
Curri's delivery service is a revelation for plumbing contractors and suppliers. Using Curri's services, you can get same-day on-demand access to a fleet of vehicles with professional rideshare drivers behind the wheel. These drivers will make sure your supplies and materials get where they need to go. Essentially, you can provide your customers with guaranteed on-demand delivery, making your business run much more smoothly in the process.
There is a need in the industry for reliable couriers who can get your supplies from Point A to Point B, making those last-mile deliveries something you don't have to stress about. Curri completely eliminates this problem while also making your delivery operations much more affordable.
Curri Makes a Big Difference for Small Businesses
Curri works for businesses of every size. Sure, the larger enterprises are going to be able to save on expenses and optimize their bottom line, but for smaller businesses, Curri can be the difference between a profitable year or a sub-optimal one. How can Curri offer the same kind of benefits for businesses both small and large? Simple: by providing you with vehicles that are right for the job, making your deliveries as affordable as possible.
When you use Curri, you specify your load and your delivery. Our customer service team will then match you with a vehicle that is the right size for the job. So when you have just a few small supplies that can fit in the back of a sedan, we send you a sedan. If you need a cargo van-sized vehicle, that's what you get. You only spend as much as you need to get your delivery where it needs to go. This also saves you money on having to use your own vehicles. Curri can operate as your entire delivery fleet.
Get Started With the Construction Couriers at Curri
Are you ready to get started with Curri? If you're in the construction industry, it's going to be one of the best decisions you make for your business. Curri is easy to sign up for and even easier to use. Simply download our app from the Apple App Store or Google Play store or visit our website and click "Sign Up" to get started. When your account is ready to go, you can request your deliveries. Curri can handle your hotshots, scheduled deliveries, round-robins, LTL and FTL deliveries and anything else you might need. 
Visit our website or download our app today to start using Curri in your business. Or if you're a driver looking for an incredible gig job, Curri is here to help. Sign up to become a driver today and start making money with Curri.
Ready to get started with Curri? Sign up today! It takes less than a minute, no strings attached.