Same-Day Courier Service for the Solar Industry
A partner for retailers, distributors, manufacturers and contractors.
Curri is the best courier solution for businesses in the solar energy industry. If you're a solar retailer, distributor, manufacturer, or contractor, we want to show you what Curri can do for your delivery ops. Imagine having professional local drivers and a full virtual fleet to make on-demand deliveries of your materials and supplies. You don't have to imagine it, because that's what Curri provides.
You can always rely on Curri's network to make deliveries directly to the job site, on time, and on-demand. Ready to partner up? Let us show you what we can do. Get in touch with Curri at [email protected] or request a demo below!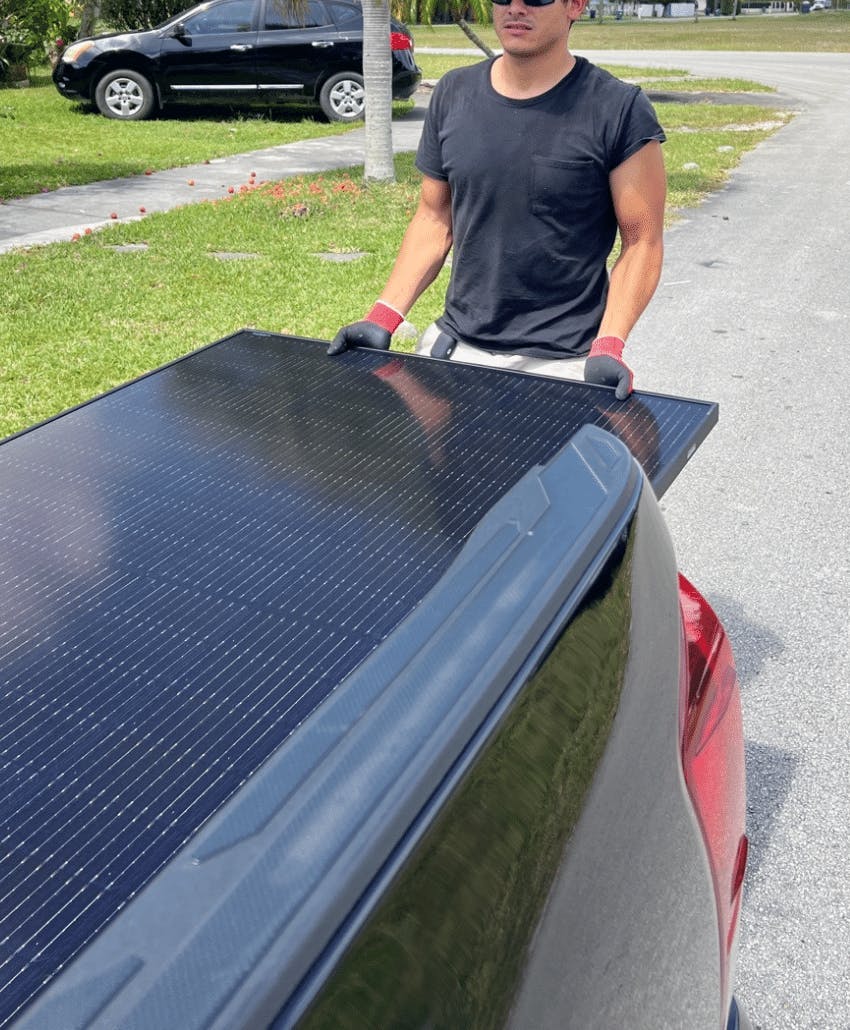 On-Demand Delivery to the Job Site, Retailer, or Distribution Center
When we say that Curri offers on-demand delivery, we mean it. If you get a last-minute, rush order delivery, you don't have to sacrifice resources to get it taken care of. Just pull up the Curri app, make your request, and a local driver will handle it so your team doesn't get thrown off schedule. You can always count on us for your deliveries directly to the job site, retailer, or distribution center.
It doesn't matter what size of delivery you have either. If you have an FTL freight shipment, we have the vehicles to get it done. If you just need to deliver smaller items, choose a sedan and save some money. Curri never charges you for a vehicle that is bigger than necessary for the job. You can consider Curri as an extension of your delivery ops team.
On-Site, On-Time: Solar Panels, PV Modules, Rail Systems, and More
Solar suppliers, distributors, manufacturers, and contractors can rely on Curri to handle solar panels, PV modules, rail systems, and any other supplies and materials you have on hand. Your customers will soon learn that they can count on you for on-demand, on-time deliveries right to the job site. When you can offer service like that, your customers won't have any reason to turn anywhere else. They'll want to order from you time and time again to get their supplies and materials when and where they need them.
Curri Dedicated, Hotshots, and Freight Services
The Curri fleet network is as flexible as it gets. If you need to handle hotshots, scheduled routes, pick-up + drop-off, round-robins, or any other route you can think of, you can rely on Curri. If you need to outsource your routes every day, just provide your manifest and leave the rest to our customer service team. Curri is designed to work the way you work. You never have to work around us. Just request your vehicle and we'll be there to pick up the shipment. Curri doesn't have subscription fees or annual fees either. Just pay for us when you need us. Your account is totally free to set up, so there's no long-term commitment.
Speaking of our fleet, we have everything you could need. The Curri fleet network includes sedans, SUVs, cargo vans, box trucks, semi-trucks, flatbeds, pipe racks, specialty vehicles, and much more. You don't have to worry about Curri not having the vehicle you'll need for the job. An entire virtual fleet will always be available with the press of a button.