First-Mile Shipping for Materials, Supplies and Equipment
First mile delivery services and logistics for the construction industry.
When shipping materials, supplies, and equipment, every leg of the supply chain counts. First-mile deliveries can be just as urgent as last-mile deliveries, and saving time and money on your first mile can make a huge impact on the efficiency of your delivery operations. But first-mile deliveries can often have varied load requirements and logistical issues you didn't plan for.
Curri is the solution to any first-mile logistical challenges. Our courier service can provide you with same-day shipping for any of your materials, supplies, and equipment from your manufacturing facility or retail warehouse to the holding facility where it's meant to go. You can always call on Curri any day of the week to get your delivery done. Read on to learn more, or contact the Curri team with any questions!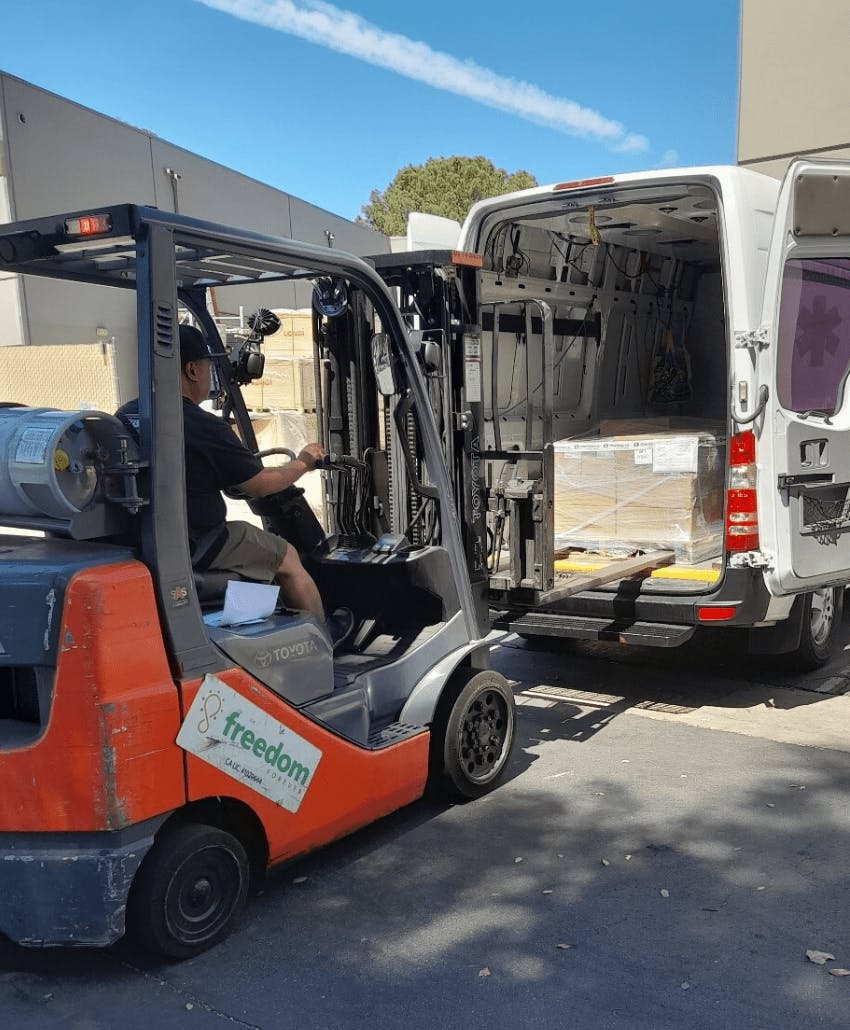 On-Demand Delivery Fleet Expansion for Distributors and Manufacturers
As a distributor or manufacturer, your delivery ops are likely already planned out and doing what they're scheduled to do. But what if you're facing a bottleneck or you don't have enough trucks for the job? What if there's a last-minute delivery that didn't get scheduled? Curri can help.
Our fleet network is completely on-demand and available for all of your delivery needs. You can look at Curri as an instant fleet expansion for your business. Except you don't have to buy and maintain more vehicles or hire more drivers. Curri can fill in any gaps in your delivery ops or take over your first-mile deliveries entirely.
Curri's fleet is nationwide and expanding every day. Using Curri means your delivery ops don't have to spend time on first-mile deliveries anymore. You can leave it to Curri. No more hassle, stress, or uncertainty. You'll always have an on-demand option at your fingertips.
Experienced Local Drivers With a Complete Array of Vehicle Types
Curri is the ultimate courier solution thanks to three crucial factors – an advanced platform, a vast fleet, and professional local drivers. You can always count on Curri to make your delivery operations as efficient as possible. Your driver will be local to the area, so they'll know the best path to take to the destination.
Our network drivers are experienced, insured, and background-checked for your peace of mind. You can trust that your driver will exceed your expectations with their incredible service.
In addition to wonderful drivers, Curri's fleet network is equipped to handle any delivery you can throw at us. When we say we can take on any delivery, big or small, we really mean it. We have sedans, pickup trucks, flatbeds, cargo vans, box trucks, semi-trucks, and much more. When you work with Curri, you'll always be matched with a vehicle that is perfect for your specified load.
Curri's Couriers Are Solving the First-Mile Problem Nationwide
Curri is solving first-mile delivery problems for businesses all over the nation. There's no stress or difficulties when you utilize Curri. You just get professional, efficient delivery services that you can count on.
Curri helps you look even more impressive to your customers too. When they learn you can provide them with same-day, on-demand delivery to their holding facility, they'll become loyal customers for life. And you get all the credit! Curri is here to help your business look good.
No matter what size business you have, Curri is the right solution for you. There is no minimum obligation when you use our platform. Just request your deliveries as you need them. If you need Curri can deliver for you a few times a month or we can deliver for you every day. All you have to do is schedule your requests and we'll handle it from there.
Advanced First-Mile Transport Logistics and Tracking
Curri is simple to use, but we have advanced logistical software working right beneath the surface. Our logistics and tracking software will organize all of your deliveries, provide you with up-to-date information on delivery status, and send you a confirmation as soon as your delivery is completed.
Also, Curri provides you with great features like custom usage reports, accounts billable integrations, and more. With Curri, you'll be able to track the value of our service for your supply chain and see how much more efficient and effective your delivery ops are with Curri on your side.
Ready to Get Started? Set up Your Account Today
Ready to see what Curri can do for your business? Let us take care of your first-mile deliveries and everything else you need. You can start requesting deliveries as soon as today.
Ready to get started? Check out our demo below or sign up for your account today!