Same-Day FTL and LTL Courier Service for Building Materials
Looking for a service that can provide same-day FTL and LTL deliveries?
Curri is your solution. Finding a reliable FTL and LTL carrier for your construction and building materials can be a challenge, especially if you're not operating your own fleet. That's where Curri comes in. At Curri, we've developed an advanced platform that allows you to schedule FTL and LTL deliveries and hotshots on the same day you need them.
Interested in learning how we do it and how you can take advantage of this service for your business? Read on to learn more, or email the Curri team with any questions!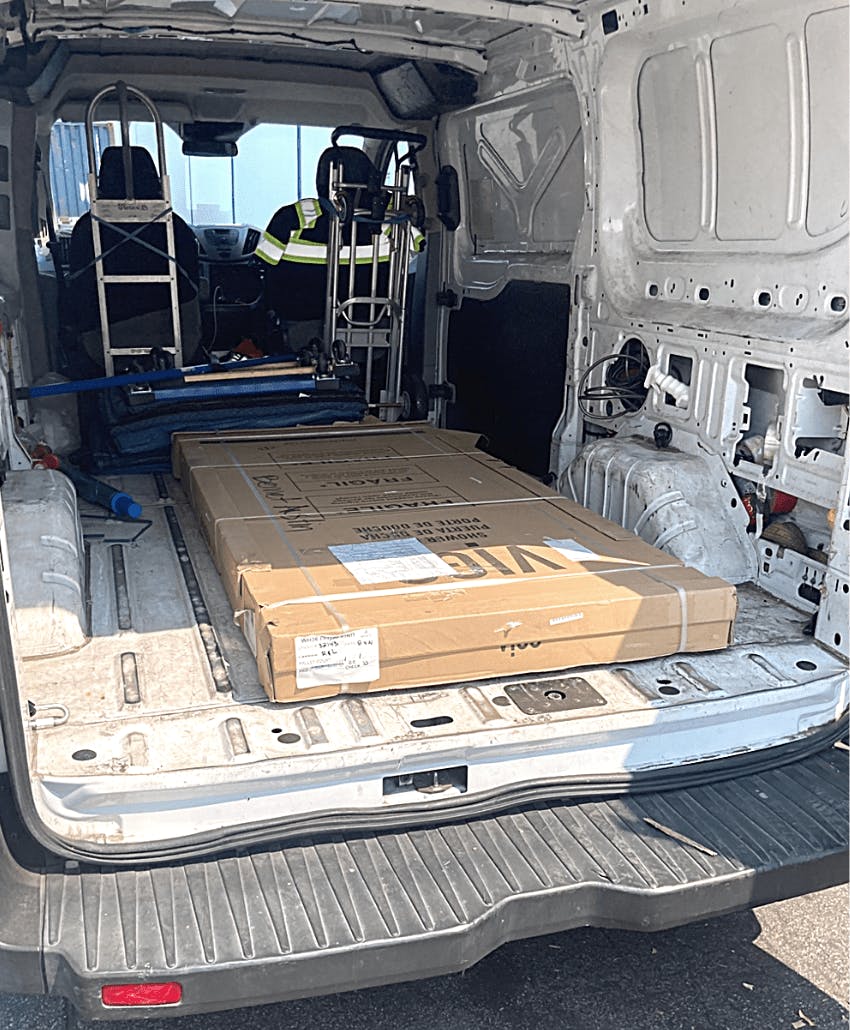 Transport Trucking for Suppliers, Distributors and Manufacturers
The Curri platform is designed to make transport trucking easier for suppliers, distributors, and manufacturers. Utilizing Curri takes the headache out of delivery logistics. When you switch to Curri for your delivery service, you can get more efficient deliveries, more reliable deliveries, and save money at the same time. No matter what size business you're running, Curri can completely handle your delivery needs.
If you're a supplier, distributor, or manufacturer, we're ready to partner with you and take care of your deliveries. With Curri, you get couriers you can count on. Let's talk more about how this works.
On-Demand Fleet Expansion - Flatbeds, Lowboys, Dry Vans, and More
With Curri, you'll instantly be able to expand your fleet to include almost any vehicle you can think of for your deliveries. And you have access to this fleet on-demand. The Curri fleet network has vehicles of all sizes and functions so that you can always count on Curri to have the right vehicle for the job.
Curri network drivers have straight trucks, flatbeds, lowboys, dry vans, pickups, cars, lift-gate trucks, and much more. If Curri is in your area, you can rest assured that you'll be able to find a vehicle that can handle your delivery.
Curri steps in to be exactly what you need it to be. If you're needing a delivery team to serve as your virtual fleet, we can make it happen. If you're just needing to supplement your current fleet, Curri is perfect for that too. No matter what your delivery operations are lacking, Curri can fill in the gaps. And if you're wondering who is going to be making your deliveries, you don't have to worry. Our network of drivers will exceed your expectations.
Trained and Insured Local Drivers That Know Your Region
A fleet of vehicles alone isn't enough for you to radically change your delivery operations. You also have to trust that your deliveries are going to be handled properly and with care. At Curri, we don't skimp on quality in any aspect of our platform. You can guarantee that you'll be getting a fantastic driver every time you use the Curri app.
Curri's network of drivers go through background checks and customer service training to ensure you have the best experience possible working with them. Drivers are also fully insured, so you can rest easy knowing your deliveries are backed. Not only that, but these local drivers are highly experienced in your area. That means they're going to know the area just as well as you, taking care to get your deliveries where they need to go on time and efficiently.
LTL vs FTL - Less than Truck Load or Full Truck Load?
When it comes to LTL vs FTL deliveries, you can count on Curri for both. As mentioned, our fleet network is equipped to handle anything you throw our way. If you need a less than truckload delivery, choose our freight option on our website or app. You'll be able to choose a vehicle that is the right fit for the job, nothing more, and we'll match you with the perfect driver to get the job done.
If you have a full truckload delivery, that isn't a problem either. Same as before, just select the vehicle necessary for the job, and we'll take care of the rest. LTL and FTL deliveries are a crucial part of many construction and building materials operations, and we've designed our services to perfectly service your industry. No matter what kind of delivery you require, Curri will be able to facilitate it with the highest level of care, efficiency, and professionalism.
One Software Platform for Scheduling, Tracking and Logistics
When you choose to work with Curri, there's nothing complicated to set up. Choosing to use Curri for your deliveries is as easy as opening your web browser or downloading our app. We've put everything you need right on our intuitive software platform. Curri is simple on the surface, making it extremely user-friendly, but under the hood there's a powerful logistics program at work, giving you all the tools necessary to revolutionize your delivery ops team. Those tools include scheduling, tracking, logistics, and more.
Get Started with On-Demand Delivery Services
Are you ready to get started and access our on-demand, delivery services? Simply set up your account with Curri and you can get started scheduling deliveries today. Feel free to get in touch with us if you have any questions. We look forward to working with you and providing you with a better way to make your deliveries.