On-Demand Courier for Door Suppliers, Distributors and Fabricators
If you want a construction and building materials delivery partner you can trust, choose Curri.
We've created an innovative and efficient way of helping businesses complete their delivery routes on demand and at any time. If you're a door supplier, distributor, manufacturer, vendor or fabricator, we want to partner with you next.
With Curri's help, you'll be able to boost the capabilities of your delivery operations team instantaneously. How does this work? We're glad you asked. Get in touch with Curri at sales@curri.com or request a demo with us now below!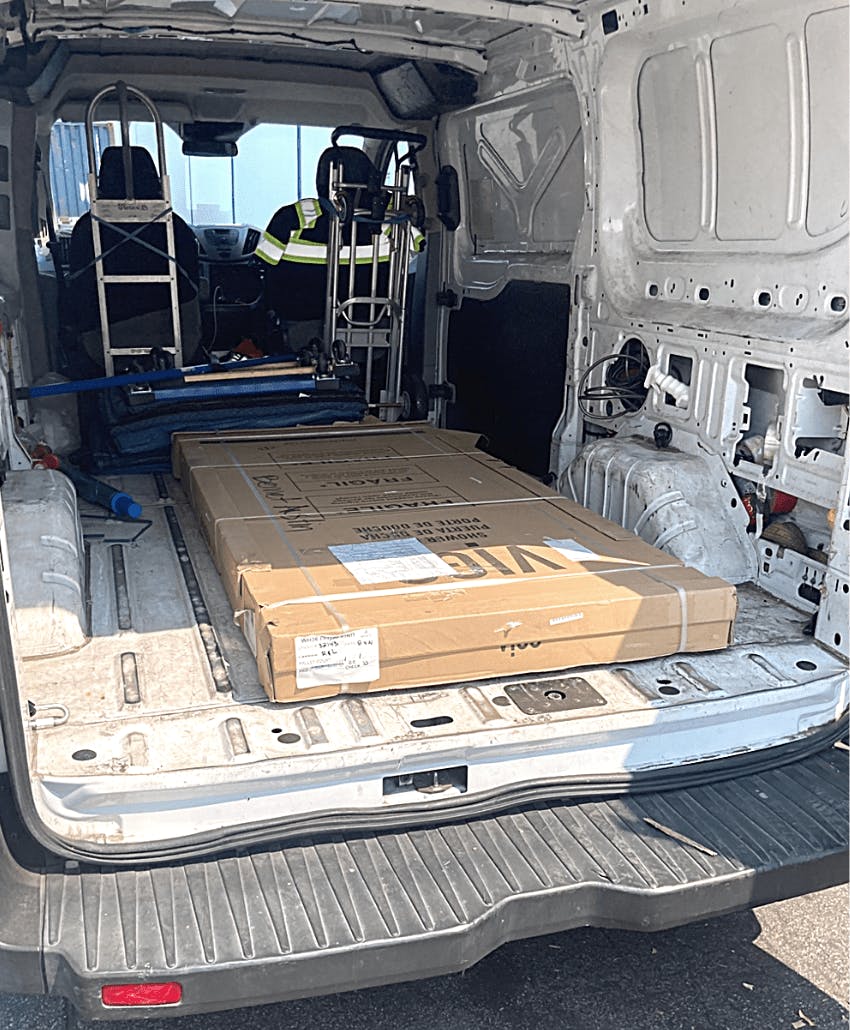 Reliable Drivers, On Site, On Time - From Manufacturer to Job Site
Curri is an on-demand courier service that you can access directly from our software platform. We have a fleet of drivers who are reliable, insured, background checked and trained to exceed your service expectations. When you request a delivery with Curri, we'll match you with one of our drivers, who will make sure your shipment gets straight to the job site quickly and on time.
Our drivers pick up wherever you need them to. We can bring supplies and materials directly from the manufacturer to the site — no extra steps in your delivery operations required. Curri makes it extremely easy to get your customers the materials they need whenever they may need them.
Any Size Final-Mile Delivery: Bulk Shipments and Individual Products
Here at Curri, we strive to help businesses with all their delivery situations. That means we can take care of those final-mile deliveries for you, no matter what size they are. If you have an individual product order, our drivers can take care of it. If you have a huge bulk shipment that needs to go that last mile, we can do that too. No matter what your delivery needs are, we have a driver who is ready and willing to get it done.
Oh, and there's no stress on your part. Once our drivers pick up your delivery, you'll get live tracking from our app, and you'll receive signature confirmation once the shipment gets where it needs to go. You can trust Curri to ensure your shipments always arrive efficiently and securely.
Hotshots, Scheduled and Daily Routes - LTL and FTL Freight
If you've got a route in mind, Curri has the drivers to get it done. We can handle your hotshots, scheduled routes, daily routes and your LTL or FTL freights. Curri seamlessly integrates with your delivery operations. You don't have to change a thing. All you have to do is request us when you need us, and we show up and get the job done.
Our fleet is impressive as well. Our drivers have any type of vehicle you could possibly need to complete a delivery. Whether you're needing bobtails, a pickup, a box truck, a flatbed or even just a simple sedan, we've got you covered. That's one of the things that makes Curri so affordable. You just order the vehicle size you need and we select a driver who has the right vehicle. It's that simple.